Tue, 04/12/2022
A Blog Post by Melanie Sigman
I was born and raised in Covington, Georgia and most of my family still lives there. I went straight to work after high school, but decided to attend college only a couple of years later. In 2012 I earned my AAS in Paralegal Studies from Georgia Piedmont Technical College. Soon, I decided a paralegal position wasn't for me. I had always been drawn to museums, so when I found a small school in East Tennessee that had a museum studies program, I applied and got in. I earned my BA in Museum Studies from Tusculum College (now University) in 2015. I returned home to Georgia, and received my MA in History with a Public History Concentration from the University of West Georgia in 2018. That summer I was blessed with the opportunity of doing an archives internship with the Alabama Department of Archives and History, and fell in love with the work. I applied to the University of Alabama's Library Science program, and am set to graduate with my MA in Library Science with an Archival Concentration in December of 2022.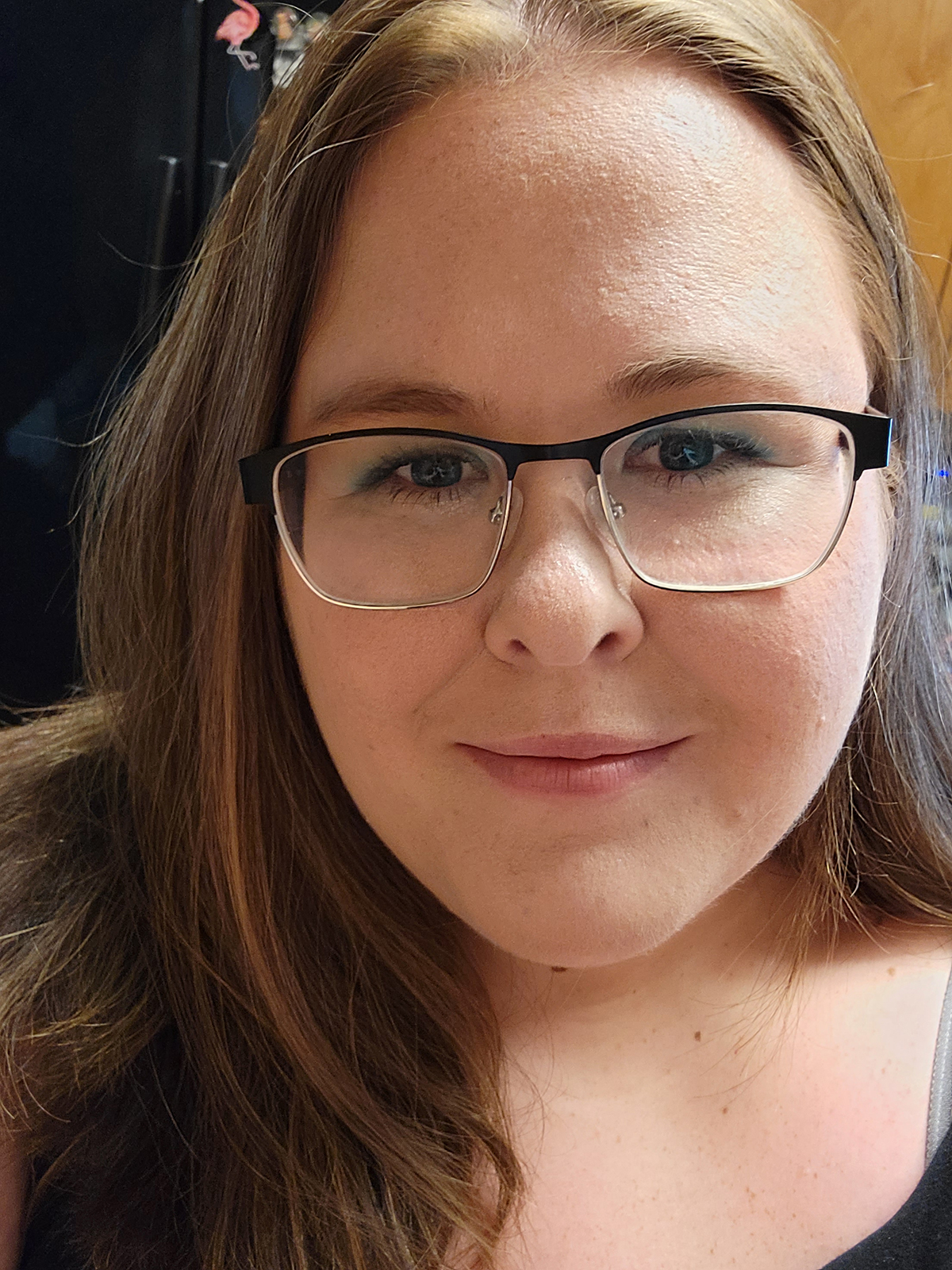 What do you do as a Conservation Archivist?
As the conservation archivist it is my responsibility to perform conservation on items that need restoration; this can be binding pamphlets, repairing torn documents/pages, removing tape and mold, spine repairs, cleaning, even creating housing for fragile items. We also do a number of private repairs where patrons may bring in items for basic conservation. Recently, I repaired an 1887 copy of Crams Unrivaled Atlas of the World. This entailed surface cleaning, repairing tears, removing and replacing old bindings, and creating new fly leaves to polish it off. I also do some processing and accessioning of records, as well as working on the reference desk two times a week, helping patrons find documents they need for various types of research, including historical, genealogical, and legal.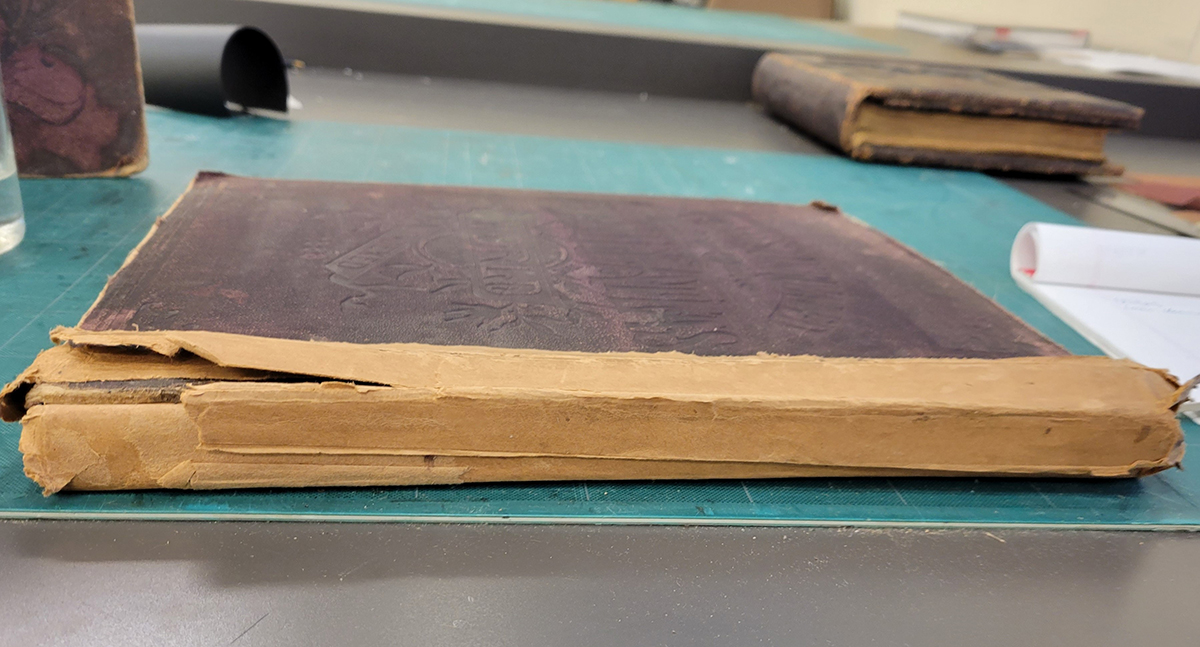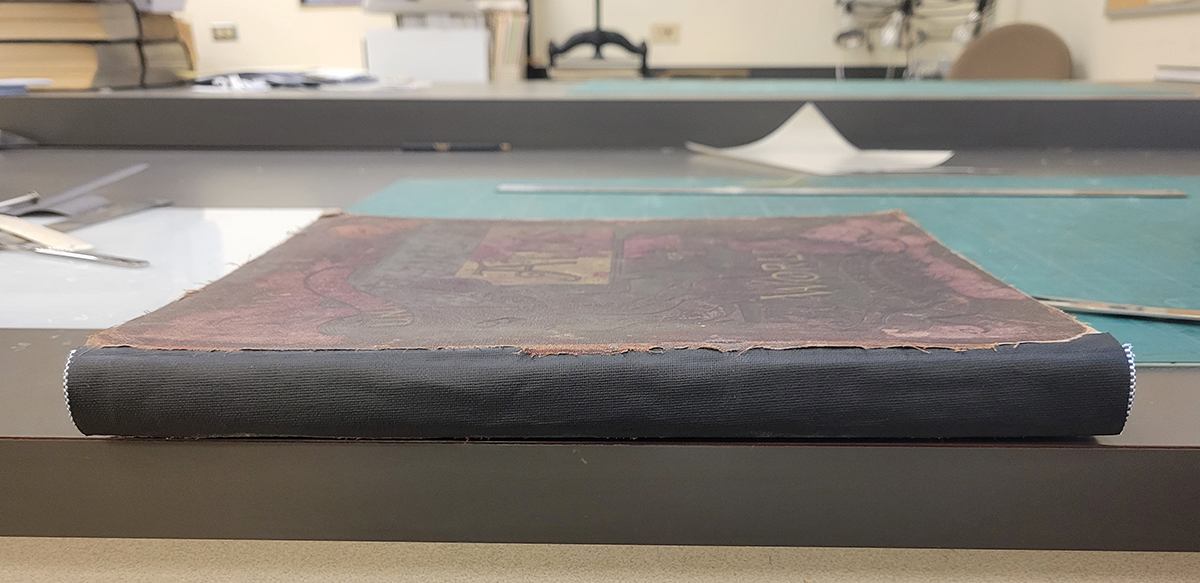 Do you have a favorite collection or document?
My favorite collection would have to be the Department of Mental Health records. These records date back to 1828 when the State Department of Mental Health was still called the "Lunatic Asylum." It is an extensive collection that includes admissions files, correspondence, case histories and more. While this is not a pretty or happy collection, it is fascinating. It reads a lot into the moral fabric of the mental health world and how far we have come. It should be noted that patient treatment records less than 75 years old are not open to the public.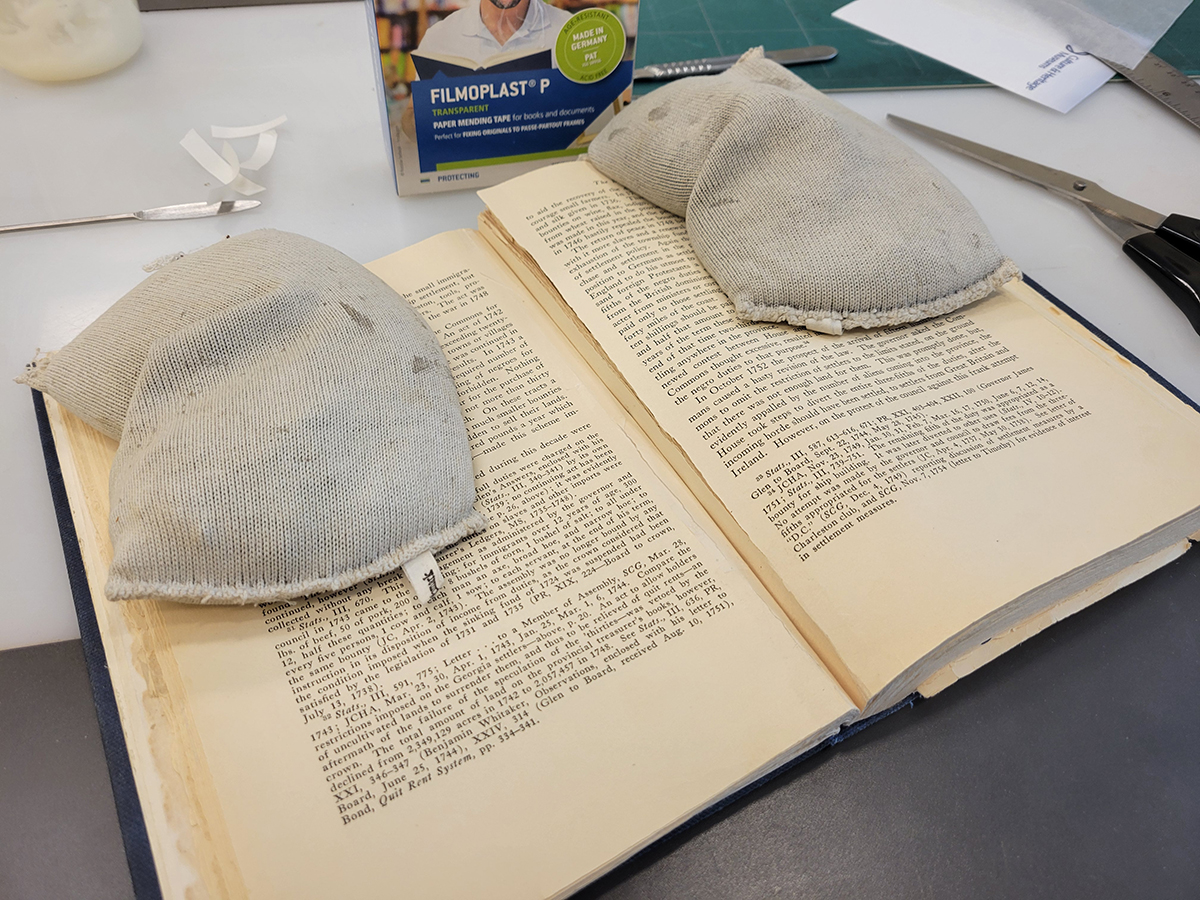 What is your favorite part of the job?
I truly enjoy the hands-on part of my job, where I get to repair or treat an item. Book binding is my favorite. Though it takes a lot of patience, once the book is put together, and is usable, it's a really awesome feeling.
A good rule of thumb I try to follow when I am doing a conservation project, is to make the object appear like nothing had ever happened to it in the first place, though it's not always possible.  Sometimes I feel like Frankenstein trying to bring his monster to life. 
Who is your favorite historical figure or time period?
I am an avid reader of history, so my tastes change with my mood…one day it may be Medieval England, the next the American Civil War. It simply ranges. But my favorites are Czarist/Romanov Russia and Victorian England. The Romanov's, from Mikhail in 1613 to Nicholas in 1917, have been a fascination for me since I was 10 and first read Anastasia's "diary." And the Victorians, well, they are just weird and fascinating.
As for a historical figure, that one is a little harder to pin down. Whenever asked this, I always say it is not the major players I want to meet and talk with…it is the common folk. The people who are like me, just trying to get through their lives relatively unscathed. But if I had to pick one person, I would say President Ulysses S. Grant. Maybe an odd choice, but I find him intriguing. I also find him to be more underrated than he should be!