Records Held at the SC Archives
As the official repository of state government records, the Archives houses a unique collection of original documents; it also holds a large microfilm collection of both federal government and British government records.
If this is your first visit to the Archives view this short video on what to expect on your initial visit.
A brief listing of the type and scope of records held by the Department is given below. A more detailed listing of the Department's holdings can be found in the Archives' Summary Guide to Holdings, the SCArchCat online catalog, and by consulting the Online Records Index.
Legislative records: Journals from 1692 and acts from 1691, supplemented by bills, petitions, reports, and so forth from 1782.
Court records: Journals and case papers of provincial and appellate courts. 
State agencies and departments: Non-current records of existing and defunct organizations.
Executive records: Council journals from 1671; governor's papers from 1860 with rare scattered earlier material.
Treasury records: Ledgers, journals, cashbooks, vouchers, and stub entry books from 1721. 
Land records: Plats and grants virtually complete from 1731; nearly complete records of grants and conveyances 1671-1730; memorials of land titles, 1732-1775; microfilm of deeds available to 1920. 
Records of the Secretary of the Province and State: Wills, inventories of estates, marriage settlements, commissions, mortgages, bills of sale, registers of trademarks, and charters of incorporation from 1671. 
Military service records: Accounts Audited of Claims Growing Out of the Revolution; rosters of Confederate War soldiers; Confederate pension applications; scattered records of colonial wars, War of 1812, Mexican War and Spanish-American war; records of the Adjutant General's Office. 
County and Municipal records: Several thousand cubic feet of manuscript records and a growing collection of microfilm produced by the Department; microfilm and typed copies of selected records to 1860 made by the Genealogical Society of the Church of Jesus Christ of Latter-Day Saints and the Works Progress Administration. 
Reference collection: An ever-growing microfilm collection of public and semi-public records of or relating to South Carolina from the British Public Records Office, the National Archives, and private manuscript repositories; published reference works; bibliographies; archival guides; and monographs on South Carolina history.
Research Links
South Carolina Historical Society
Directory of South Carolina Historical Records Repositories
National Archives and Records Administration
State Historic Preservation Office: Researching Historic Properties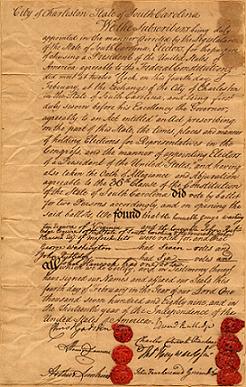 Miscellaneous Communications to the General Assembly, 1789 (S165029)