Military Records
American Revolutionary War
South Carolinians have long had a special interest in the American Revolution. The South Carolina Department of Archives and History has published many of its
surviving records documenting the war and has amassed a remarkable collection
of copies of research materials housed elsewhere, including the National Archives, the British Public Record Office, the Library of Congress, the New York Public Library, the State Historical Society of Wisconsin, the Henry E. Huntington Library and Art Gallery, the Colonial Williamsburg Foundation, and other repositories.
The SC Sources for the American Revolutionary War guide is intended as a
summary annotated checklist to these materials.
Civil War Confederate Records
As the first state to secede from the Union, South Carolina has had an abiding interest in preserving a record of the Palmetto State's service to the Confederate States of America. Today, the South Carolina Department of Archives and History continues that tradition with its collection of Confederate military records, consisting of National Archives' microfilm and original documents from various state agencies, are the primary tools for tracing your ancestor's Confederate service.
All the records listed in the Confederate Military Records guide are available to the public in the SC Archives' Research Room.
For more information about the SC Archives military records holdings, contact the Research Room at 803-896-6104 or send an online Research Request.
Archives Publications
Several publications on the American Revolutionary War and the Civil War are available at the Archives' Publications page.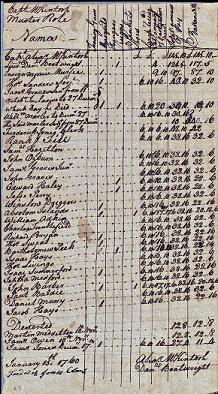 Muster Rolls for the Cherokee Expedition 1759-1760 (S165229)