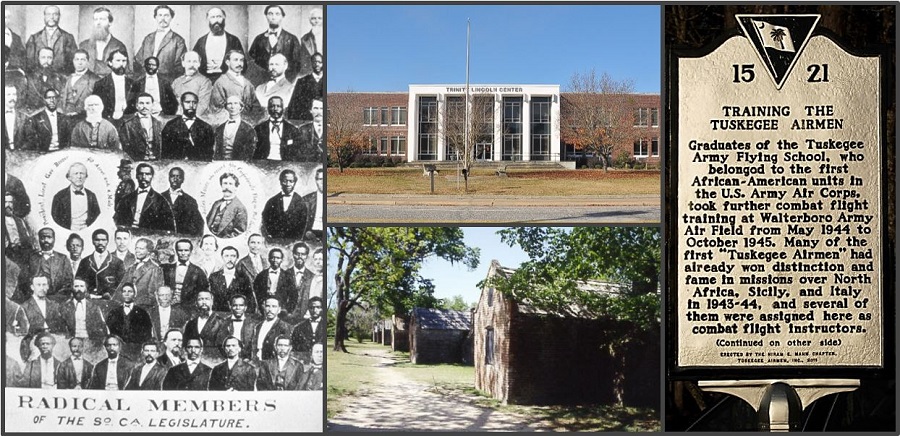 The roots of African American history in South Carolina run deep, spanning over three centuries and touching every corner of the state. It is a history that tells the stories of enslaved laborers and free people of color, soldiers and politicians, farmers and entrepreneurs, doctors and nurses, pastors and parishioners, educators and students, and many more. This rich legacy includes historic buildings and structures, archaeological sites, and cultural traditions. Unfortunately, many of these resources are at risk. The South Carolina African American Heritage Commission works closely with the South Carolina State Historic Preservation Office (SHPO) to identify, record, recognize, and encourage the preservation of these historic places, helping all South Carolinians to more fully understand and appreciate the contributions of African Americans to the state.
African American Heritage Commission
The mission of the South Carolina African American Heritage Commission is to identify and promote the preservation of historic sites, structures, buildings, and culture of the African American experience in South Carolina.  
Resources
A Teacher's Guide to African American Historic Places in South Carolina (4th edition, PDF)
African American Historic Places in SC (PDF)     Addendum July 2021 - June 2022
How Did We Get to Now? Documenting African American Schools in SC from the Jim Crow Era:  Volume 1 (2016)  Volume 2 (2019)
The Business of Rural Heritage, Culture and Art: An Introductory Resource Guide for Entrepreneurs (PDF)
SHPO Historic Context Studies:  Includes contexts on several topics related to African American history in South Carolina
Useful Sources for Researching Historic Properties (PDF):  General research guide with several sources for researching African American history (subjects include:  Rosenwald schools, equalization schools, Negro Motorist Greenbook, Freedmen's Bureau records, and more).
South Carolina Historic Properties Record (SCHPR):  Searchable database of National Register listings and available online survey records, including numerous resources related to African American history.
Rosenwald Schools:  This page provides information and resources on the history of African American schools built across the South between 1917 and 1932 with assistance from the Rosenwald Fund. 
Places to Visit
The Green Book of South Carolina is a web-based application designed to guide travelers to African American historic sites throughout the state. You can also discover more places to visit through the Gullah Geechee Heritage Corridor, the South Carolina National Heritage Corridor, and the official South Carolina tourism website.