Tue, 08/24/2021
A Blog post by Roberto G. Muñoz-Pando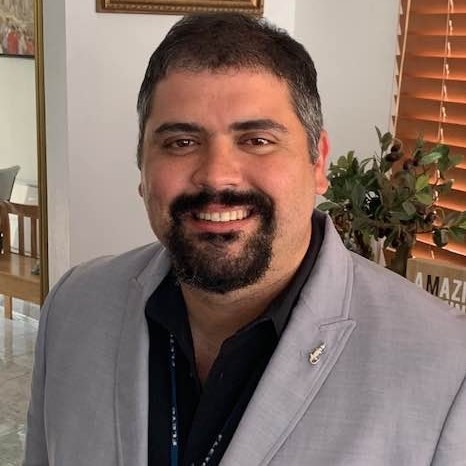 I was born in San Juan, Puerto Rico. Growing up, I always had a passion for history and archaeology. When I was young, I saw archaeology as a fun hobby more than a career option. I completed my Bachelor's Degree in Psychology at the University of Puerto Rico in 2004 and worked as a Technician in US Customs and Border Protection (CBP) from 2007 to 2016. During my time at CBP, I completed a Masters Degree in Archaeology in the Center of Advanced Studies of Puerto Rico and the Caribbean (2015). In 2016, I got accepted to the PhD program at the University of Florida in Gainesville and took a leap of faith to pursue my dream of being a Full Time Archaeologist. I am scheduled defend my PhD dissertation, entitled: The Archaeology of Money in Sixteenth Century Puerto Rico, in the 2021 Fall Semester. I have published several papers about Archaeology, Numismatics (the study of coins and paper money), and History. I have presented my research in international conferences in Puerto Rico, Dominican Republic, St. Croix, Italy and the United States of America.
What do you do as a SC SHPO Archaeologist?
As a South Carolina SHPO Archaeologist, it is my duty to protect the archaeological heritage of the people of South Carolina. I am the Archaeologist for the State Historic Preservation Office. Primarily, I work in Review and Compliance where, under applicable federal and state laws, I consult with agencies and applicants to review projects in order to: identify archaeological sites that are listed in or eligible for listing in the National Register of Historic Places (NRHP), evaluate the impacts of proposed projects on these sites, and determine ways to avoid, minimize, or mitigate negative impacts.  The responsibility of our office in regards to federal agencies comes from Section 106 of the National Historic Preservation Act which requires agencies to take into account the effects of their "undertakings" on historic properties listed in or eligible for listing in the NRHP. An undertaking can include any project or activity that is permitted, licensed, or approved by a federal agency. I also complete reviews of projects for DHEC-OCRM, DHEC-Mining and the SC Department of Commerce under various state mandates.
Why did you want to be an archaeologist?
I have always had a passion for history. Being the hands on person that I am, archaeology seemed like the perfect fit for me. I love learning about different cultures, civilizations, and how they shaped the landscape around them to exist in their environment. To me, archaeology and history are related disciplines and should help each other in their quest for knowledge. I am an archaeologist because I want to protect the heritage for generations to come.
Do you have a favorite collection or document and why is it your favorite?
The South Carolina Department of Archives and History is full of very interesting resources and I have barely had the time to scratch the surface of their potential in my time here. However, being a numismatist, I have enjoyed looking (and even buying a couple) of the Confederate bills that are on sale at the gift shop. They are South Carolina State Bank notes that were in use during the civil war and are literarily like taking a piece of history home. 
What is your favorite part of the job?
My favorite part of the job is protecting archaeological heritage so that future generations can learn about their history.
Who is your favorite historical figure or time period?
My favorite historical period is the 16th century Caribbean. I like to call it the birth of globalization and life as we know it. The melting pot that came out of the finding of the new routes to the Americas was the beginning of the world as we understand it. Unfortunately, some of the greatest atrocities in history happened during this period and we can only learn from those previous mistakes to make a better history for future generations.