Fri, 05/31/2019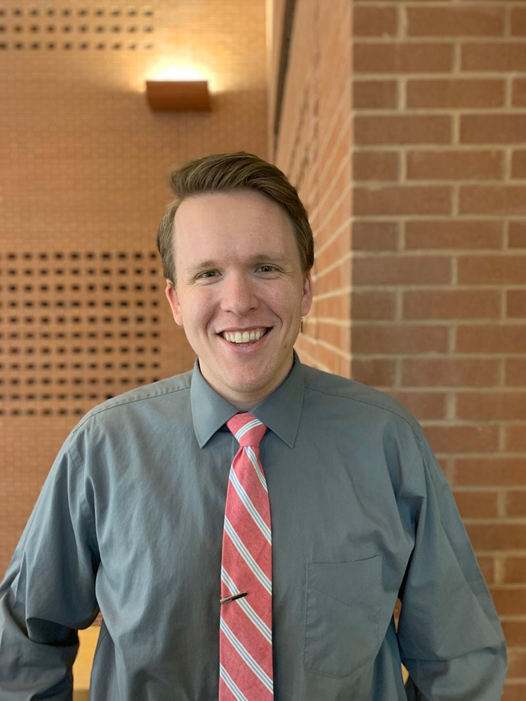 I'm originally from Slidell, Louisiana (just north of New Orleans!). I went to Louisiana Tech University and studied History, then to Middle Tennessee State University to study Public History and Archival Management. I joined the SCDAH staff in March 2016 as a Preservation Archivist.
What do you do as a preservation archivist?
"Preservation Archivist" is honestly a slightly misleading title for what I do here at SCDAH. I have several duties, most of which involve digitization of records. On an average day, I might work the reference desk helping patrons access records, digitize a couple of rolls of microfilm, and scan records for our Online Records Index (I'm currently working on completing S165015, Petitions to the General Assembly). I also accession microfilm from state agencies to be stored in our security microfilm vault. I also recently created a digital component to our 2018 physical exhibit on Reconstruction, which was one of my favorite projects here so far!
Why did you want to be an archivist?
I always loved history growing up, from the time my dad took me and my siblings to a Battle of New Orleans reenactment at the Chalmette National Battlefield. In high school, I was even the president of the history club! I knew that I wanted to study history, but it wasn't until I got to college and did a couple of internships that I found my way into the archives path. Working under the great archivists at the Louisiana Tech University Archives and Special Collections convinced me that I could "do something" with my history degree.
Do you have a favorite collection or document and why is it your favorite?
There are several series that have piqued my interest in my three years here so far. I really enjoyed processing, arranging, and digitizing several sets of county coroner's inquisitions. When someone died under suspicious circumstances, the county coroner conducted an "inquisition over the dead body" to try to figure out what happened. The records that survive to this day offer fascinating (if sometimes morose and gory) stories, told through eyewitness testimony. Most government records don't include such personalized glimpses into events. Several digitized series of coroner's inquisitions are available on Dr. Stephen Berry's website CSIDixie.org.
My favorite individual document is perhaps even harder to choose, but I'd have to go with Act no. 1022 from 1776. This act, from September 27, 1776, essentially took the Continental Congress's ban on East India Company tea and made it work for South Carolina. While the rabble-rousers in Boston threw tea into the harbor in 1773, South Carolina knew that "a considerable sum of Money may be raised and applied towards defraying the Expenses incurred by this State in repelling the hostile attempts of Great Britain" if they seized the tea and sold it themselves. As a tea lover myself, I thought this approach was much more reasonable!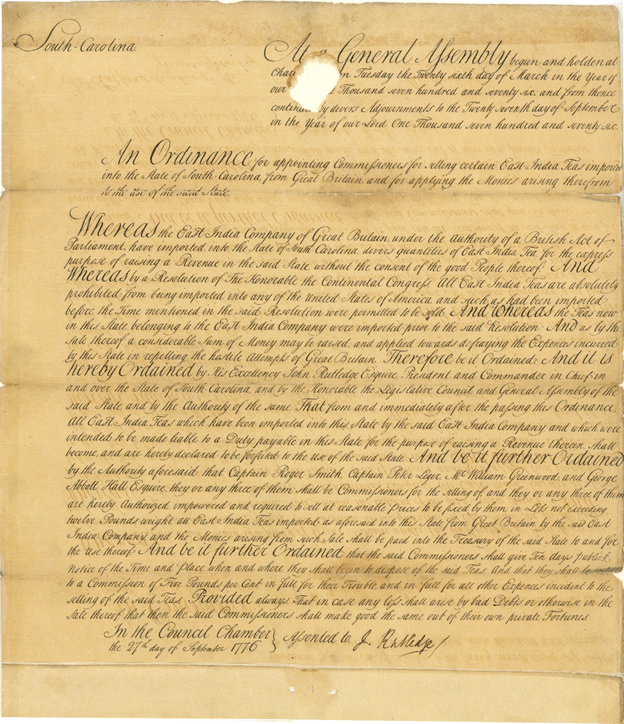 What is your favorite part of the job?
My favorite part of working here at SCDAH is working on projects that get people interacting with history. As a public historian, my goal is to help people think about history in ways that they potentially haven't before. I love working in the reference room here at the Archives, assisting researchers from all backgrounds to learn about South Carolina history. I'm also constantly seeking to create new ways for our records to make their way into the world. One example of this is the digital version of our 2017 exhibit South Carolina's Reconstruction, which I worked on earlier this year.
Who is your favorite historical figure?
My all-time favorite historical figure is undoubtedly Aaron Burr. No single figure in American history has captivated me more than the third Vice President and slayer of Alexander Hamilton. I personally believe that he has been often misrepresented by politics, media, and pop culture (*cough, Hamilton*). Did you know that Burr actually held surprisingly progressive ideals on women's rights, Native Americans, and even on slavery? He believed that women and men were intellectual equals, and ensured that his daughter Theodosia (eventual wife of South Carolina governor Joseph Alston) was educated as well as any boy could have been. He also (unsuccessfully) sought to outlaw slavery immediately after the Revolutionary War in New York.
I've always found it extremely interesting that we only remember Burr as Hamilton's "murderer" (dueling is certainly not a practice I would advocate for, but Hamilton's place in the duel should not be glossed over as if Burr shot him dead in the street!), and as the mastermind of a treasonous conspiracy (which, by the way, he was acquitted of in court). In reality, he was involved in so much more. The election of 1800, the Revolution, early Congress, you name it, he was close to it.
Part of my interest in him is studying how he's been portrayed, both in his own time and up to the present. Love him or hate him, Burr's intrigue as a character and his centrality to crucial events in early American history make him undeniably fascinating.