Tue, 02/12/2019
A blog post by Morgan Jones-King
What is SCHPR?
The South Carolina Historic Properties Record (or SCHPR, pronounced "Skipper") is an online searchable database of the South Carolina State Historic Preservation Office (SC SHPO) records on historic sites and built heritage. Through it users have access to three different types of records: historic property survey cards, National Register listing files, and historic resource survey reports. For each of these three record types, users can access descriptive and administrative information as well as related digitized images and pdfs. The South Carolina Department of Archives and History is constantly working to increase the number of records available through digitization.
What's in SCHPR?
If you are unfamiliar with the work of the SC SHPO, historic property information and survey reports are generated through the South Carolina Statewide Survey of Historic Properties. A historic resources survey is the process of systematically identifying historic properties within the boundaries of a specific geographical area, documenting their location and physical characteristics, and evaluating their significance within an appropriate historical context. The records of the South Carolina Statewide Survey of Historic Properties include information on over 68,000 historic buildings, structures, sites, objects, and landscapes. The records include documentation on properties in every county within the state. Relatively few properties have been recorded in some counties, while thousands have been recorded in others. Note that items are added from the Statewide Survey as the archival material (survey cards and photographs) are digitized. Currently, boxes 1-37 of materials is available from the series: Survey of historic resources (county by county data on surface properties), circa 1971-2014. Survey cards and photos that came to the SHPO as digital files are also available online. Below is an image of how a survey card and its associated photographs are displayed on SCHPR.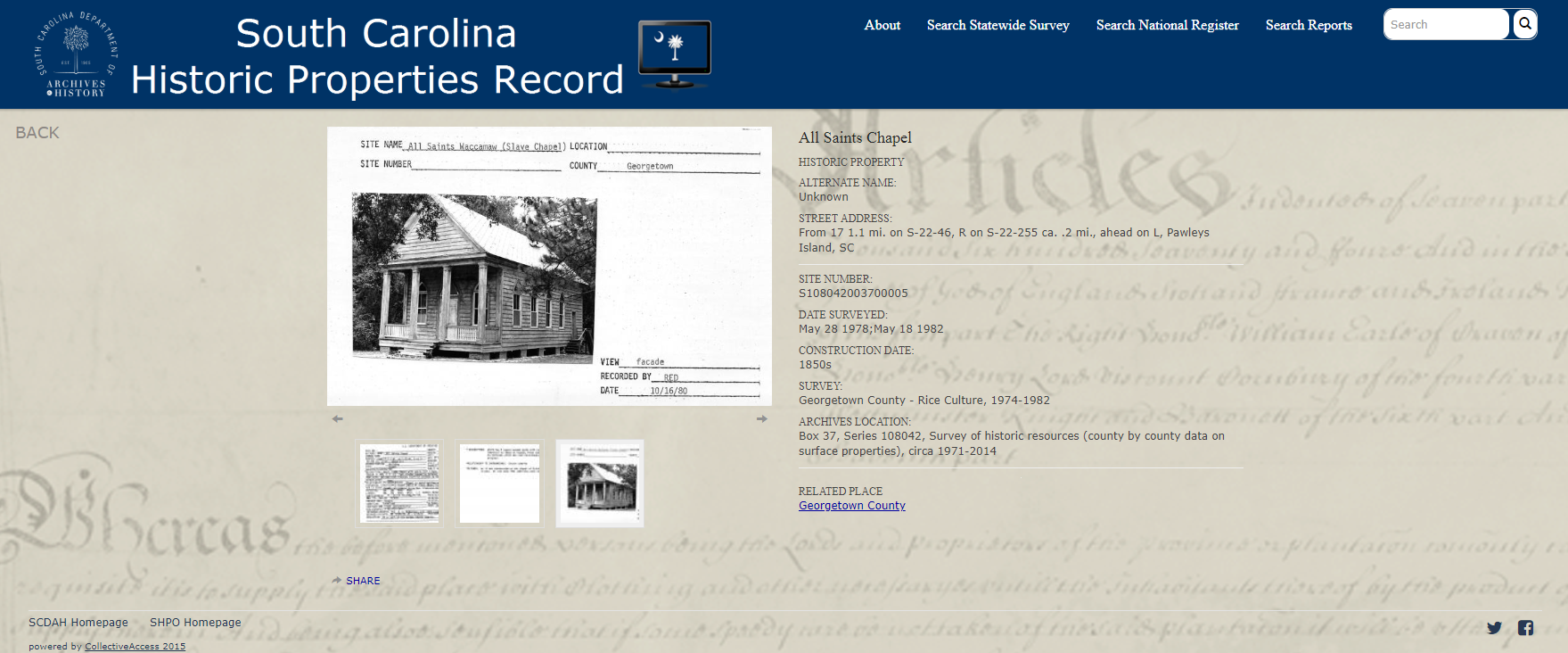 Most records of the South Carolina Statewide Survey of Historic Properties are available for public use. The location of sensitive or endangered sites, however, may be restricted. Please note the records of the statewide archaeological survey are maintained by the South Carolina Institute of Archaeology and Anthropology (SCIAA). In 1968, the state legislature charged the Institute with creating and maintaining the Statewide Archaeological Site Inventory. Today the inventory includes data on more than 20,000 archaeological sites. Information about using the archaeological site files is available on the SCIAA website.
The SC SHPO staff also aides in assisting applicants with nominating properties for the National Register of Historic Places. The National Register of Historic Places (NRHP) is a list of properties significant in our nation's past, which is maintained in Washington, D.C., by the National Park Service. Properties are added to the NRHP by nominations submitted by citizens nationwide through State Historic Preservation Offices. South Carolina has over 1,400 listings in the National Register. This includes over 170 historic districts. If users are familiar with National Register listed sites in South Carolina, they may remember the agency's previous website for accessing information and images on NRHP listings: nationalregister.sc.gov.  All of the information provided by the old website (and more!) is now available for use in SCHPR. Note that the information on a National Register listing that appears on SCHPR may not be comprehensive; the SC SHPO maintains National Register files on site that may contain further images, maps, or documents. If researchers have further interest in a National Register listing, they should reach out to the SHPO's National Register staff contact, Virginia Harness (803-896-6179). Below is an image of how a National Register listing is made available on SCHPR.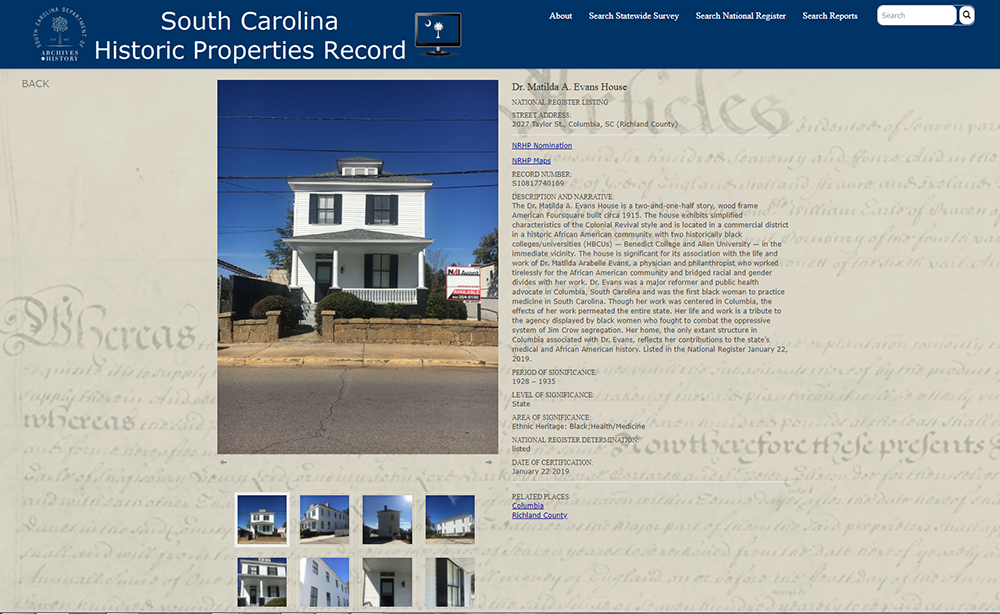 How do I use SCHPR?
SCHPR is available online at: http://schpr.sc.gov/. The home page features a rotating slideshow of digitized images chosen at random from the database, a list of recent additions to the website, and a navigation and general search bar. Users can utilize the general search bar in the top right corner to search the entire website, or they may use one of three specific search forms to find entries from the Statewide Survey, the National Register, or the survey reports.  Note that currently, SCHPR contains many more survey cards and National Register listings than survey reports. This discrepancy will change as digitization efforts progress.
As you can see below, the search form for "Search Statewide Survey" offers keyword search as well as searching in specific fields such as: historic name, common name, site number, construction date, address, and county to name a few.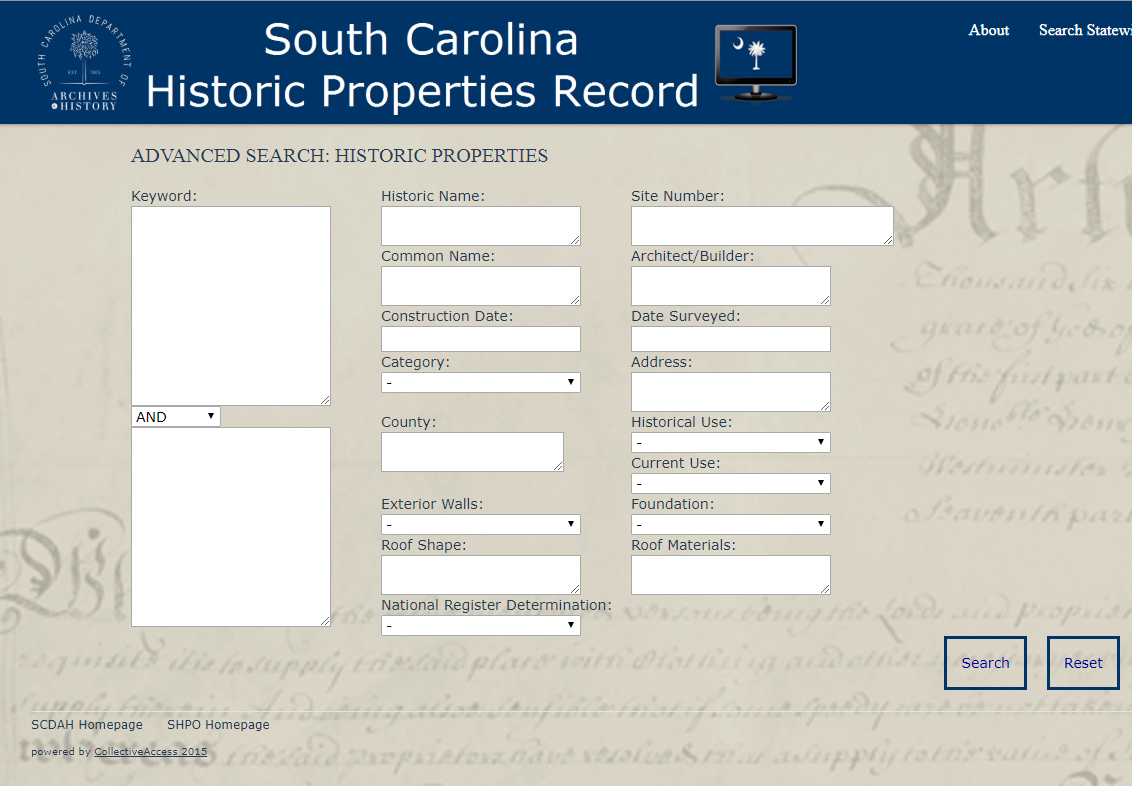 When filling out the above form, users may notice that although there is a county field available, there is not a city field.  To search by city, first search by county. When a list of results is displayed as below, users can then use the menu on the right-hand side of the page to filter by city. In fact, users can also filter their searches by the century, decade, and year of construction as well as the decade and year of survey.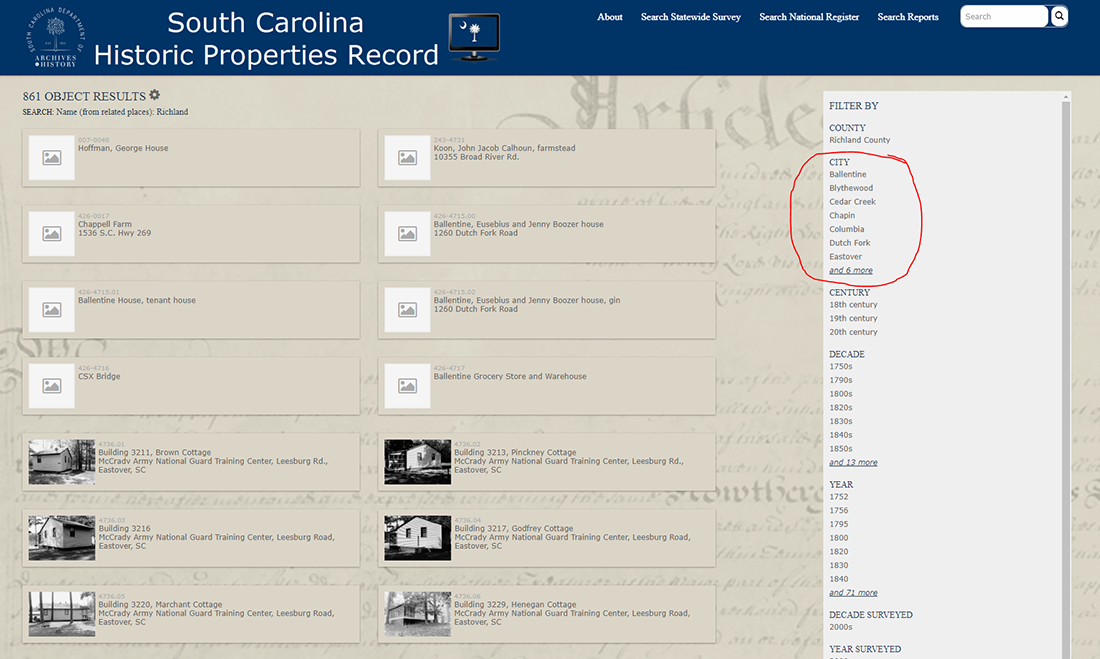 This method of search is similar when using the "Search National Register" form (pictured below) although there are fewer search field options than with the survey forms. Search fields include listing name, alternative name, address, county, area of significance, level of significance, period of significance, date listed, and National Register determination as well as general keyword search.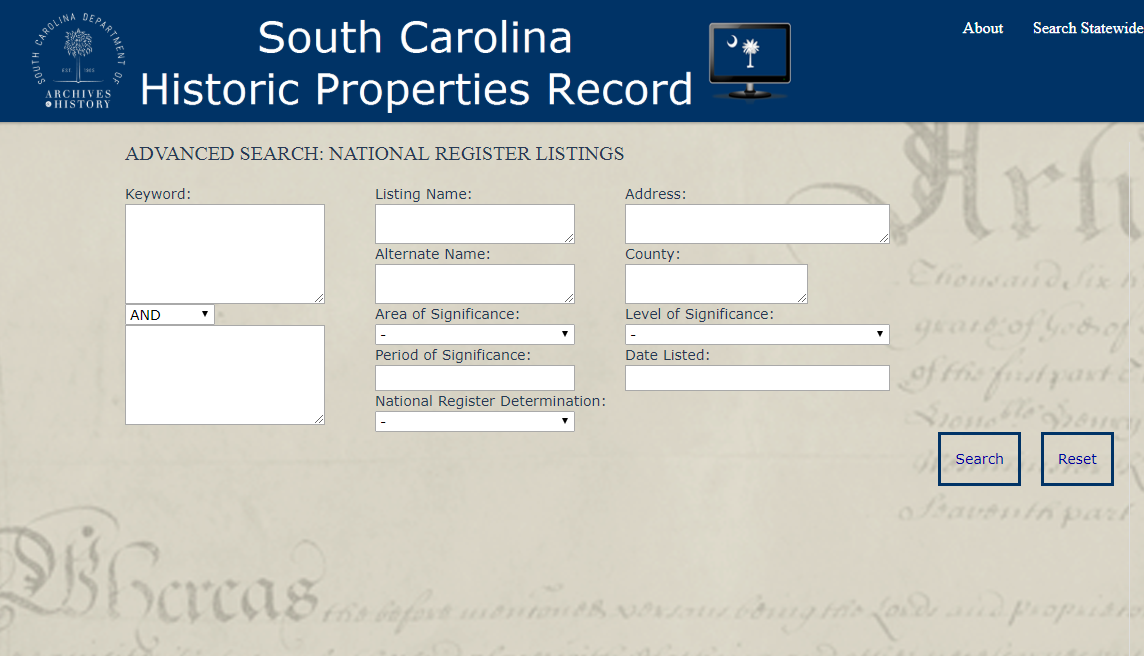 As with the first search form, users may search by county and filter down to the city level. However, there are things with National Register listings that are unique. For example, listed historic districts. To find a listed historic district, users should be wary of searching by address. The database does not currently have a list of every address included in each historic district. Thus, if researchers would like to search for a property (e.g., 123 Main St.) known to be within the bounds of a historic district, they should not search for "123 Main St." in the "Address" search field. Instead they should search by the name of the historic district in the "Listing Name" field.
Visit and Explore!
The SC SHPO invites you to explore the South Carolina Historic Properties Record and to discover more about South Carolina's built heritage and historic sites. If you have further questions about the website, its holdings, or its use, please do not hesitate to contact Morgan Jones-King (803-896-6171).