Fri, 11/13/2020
By Elizabeth M. Johnson
In recognition of the 100th anniversary of the passage of the 19th Amendment I wanted to share with our readers a few places in South Carolina associated with women who were pioneers in their chosen fields. Each of these places is listed in National Register of Historic Places, and some also have a state historical marker.  The summaries below come from the SC Historic Properties Record (SCHPR), and include a link to the SCHPR entry where you can find photographs and the National Register nomination for additional details.
Dianna Brown
Dianna McCall Brown (1860-1949) was successful antiques dealer in Charleston. Arriving in the city in the late-1870s, Brown was a member of a locally prominent African American family who became one of the city's best-known early 20th century antique dealers and the first woman of color to enter the city's antiques trade. Working from 1913 until her death in 1949, Brown operated her shop on the first floor of the family's two-story residence at 62 Queen Street, the oldest portions of which likely date to the 1870s. Navigating the limitations placed on women of color in the early 20th century, Brown developed an extensive business network believed to have stretched across the United States, distinguishing herself among black and white Charlestonians alike as a successful entrepreneur. Listed individually in the National Register March 12, 2020. For more information visit http://schpr.sc.gov/index.php/Detail/properties/71001.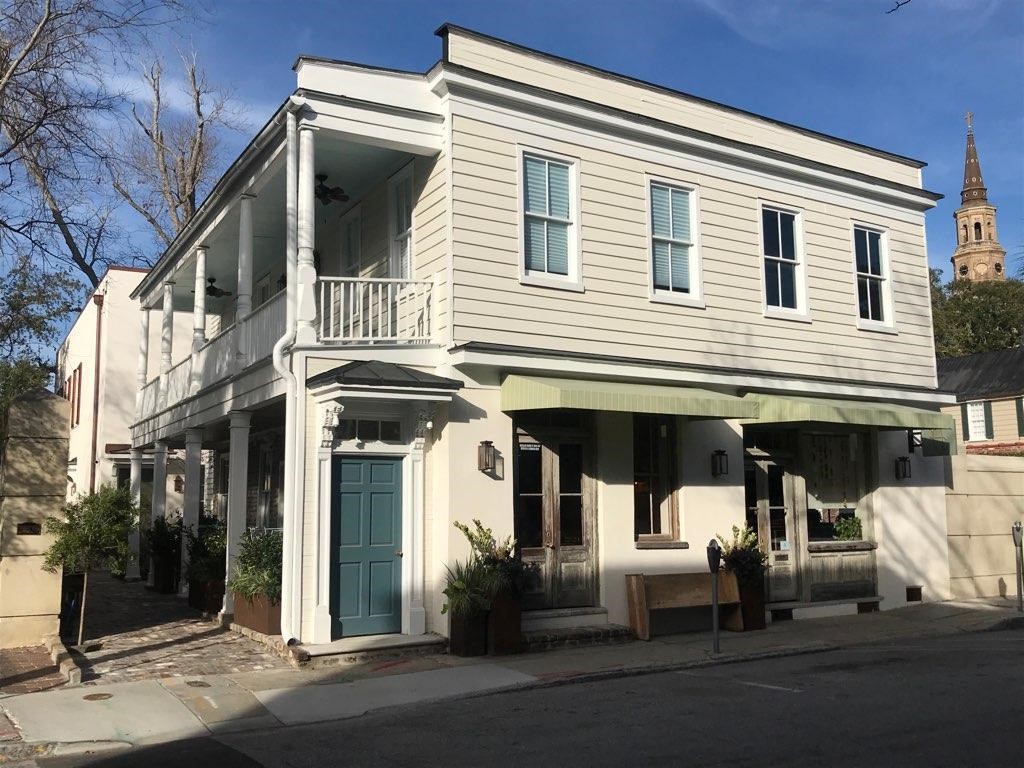 Dianna Brown Antique Shop, Charleston
Ann Pamela Cunningham
Ann Pamela Cunningham is recognized as one of the early leaders in the historic preservation movement for her role in the 19th century effort to preserve George Washington's home, Mount Vernon. She organized the first meeting to raise funds for the purchase, negotiated with the owners of Mount Vernon, served as the first Regent of the Mount Vernon Ladies' Association of the Union, and oversaw the restoration of the Mount Vernon.  Rosemont Plantation in Laurens County, dating from
ca. 1790 to 1930 when the main house burned, is now an archaeological site.  Ann Pamela Cunningham was born at Rosemont in 1816, inherited the plantation from her father, operated it during the Civil War, and died there in 1875.  Rosemont Plantation was listed in the National Register June 11, 1993.  For more information visit http://schpr.sc.gov/index.php/Detail/properties/12522
Dr. Matilda A. Evans
Dr. Matilda Arabelle Evans (1872-1935) was a physician and philanthropist who worked tirelessly for the African American community and bridged racial and gender divides with her work. She attended Schofield Industrial School in Aiken, Oberlin College, and the Woman's Medical College of Pennsylvania, graduating in 1897. Dr. Evans was a major reformer and public health advocate and was the first black woman to practice medicine in South Carolina. Though her work was centered in Columbia, the effects of her work permeated the entire state. Her life and work is a tribute to the agency displayed by black women who fought to combat the oppressive system of Jim Crow segregation.
The Dr. Matilda A. Evans House at 2027 Taylor Street in Columbia is a two-and-one-half story, wood frame American Foursquare built circa 1915. The house exhibits simplified characteristics of the Colonial Revival style and is located in a commercial district in a historic African American community with two historically black colleges/universities (HBCUs) — Benedict College and Allen University nearby. Her home, the only extant structure in Columbia associated with Dr. Evans, reflects her contributions to the state's medical and African American history. Listed in the National Register January 22, 2019. For more information visit http://schpr.sc.gov/index.php/Detail/properties/53235.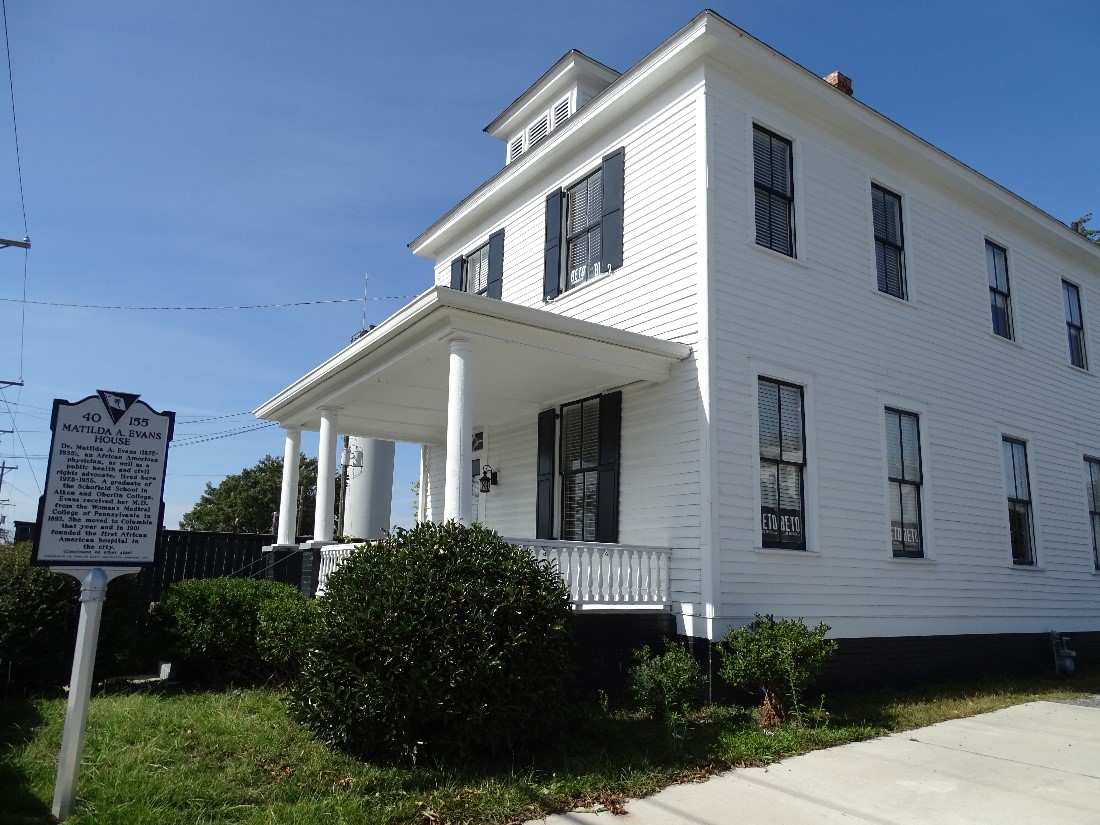 Matilda A. Evans House, Columbia
Modjeska Monteith Simkins
Modjeska Monteith Simkins (1899-1992) was a leader in African American public health reform and the Civil Rights movement in South Carolina. After graduating from Benedict College, she started her career as a teacher at Booker T. Washington High School.  In 1931 she was hired by the SC Anti-Tuberculosis Association, working for the next decade to programs to improve the health of African Americans.  She was one of founders the statewide NAACP chapter in 1939, and as state secretary from 1941-1957 was the only woman to serve as an officer. She played a significant role in the Briggs v. Elliott case, and later worked to integrate schools and improve conditions for African Americans mental hospitals through her work with the Richland County Citizens Committee. 
Simkins purchased the house at 2025 Marion Street in Columbia in 1932.  It served as her residence, lodging for civil rights associates, an office, and a meeting place. Guests of Simkins, including Thurgood Marshall, stayed in her house when hotels in the city were closed to African Americans. The house also became the target of a shooting by those opposed to the work of Simkins and other civil rights leaders. Listed in the National Register March 25, 1994. For more information visit   http://schpr.sc.gov/index.php/Detail/properties/12871.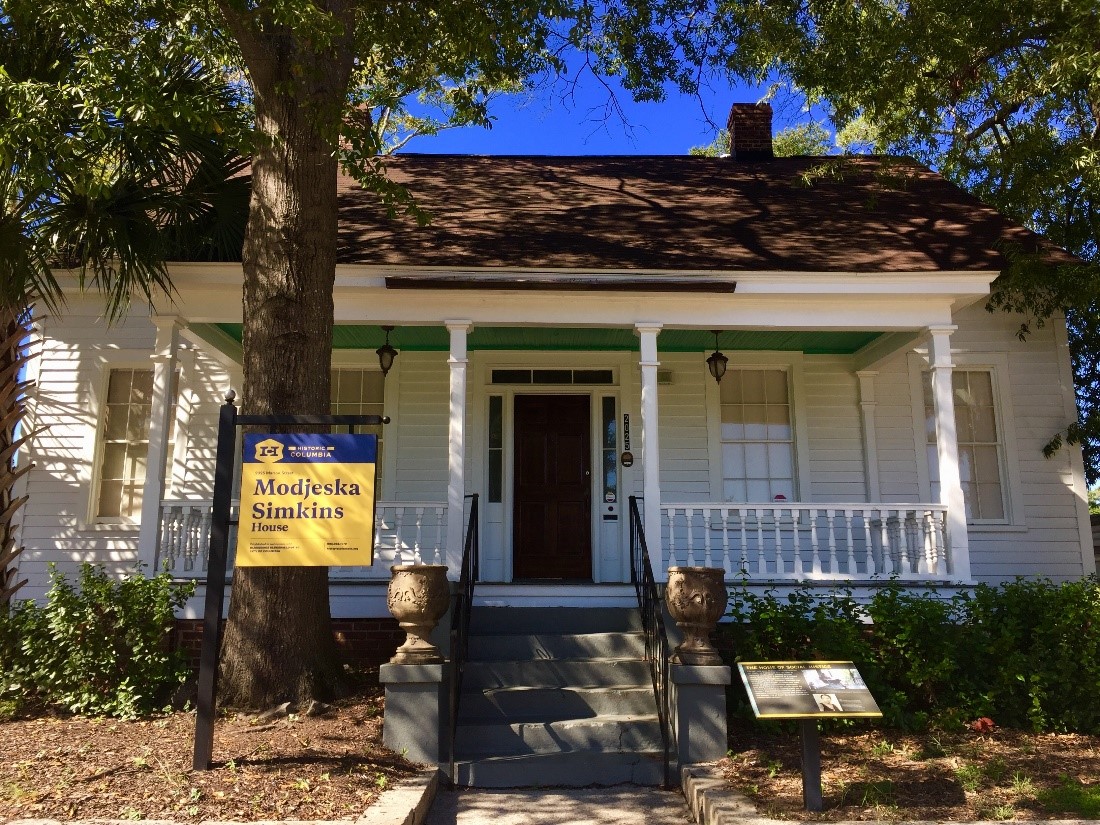 Modjeska Simkins House, Columbia
Elizabeth Evelyn Wright
Elizabeth Evelyn Wright (1872 – 1906) founded Voorhees College in 1897 as the Denmark Industrial School with fourteen students. Her determination to establish a school for poor African Americans was based on the ideals of her mentor, Booker T. Washington. After graduating from Tuskegee Normal and Industrial School, Wright moved to the rural Lowcountry of South Carolina, where she sought to emulate Washington's support for vocational training and teacher education by establishing schools for African Americans. 
The Voorhees College Historic District is comprised buildings built between 1905 and 1935, and is significant as a pioneer in higher education for African Americans in the area and for its association with Elizabeth Wright. Many of the buildings on campus were built by students. The brick buildings have leaded glass windows, curvilinear gables, dentil moldings, decorative brickwork, and cupolas. The buildings were not simply utilitarian but reflected an admiration for architectural design and a desire to master masonry techniques. The Historic District was listed in the National Register January 21, 1982. For more information visit http://schpr.sc.gov/index.php/Detail/properties/11723.
Virginia Durant Young
Virginia Durant Young (1842-1906) was journalist, novelist, humanitarian, political activist and internationally recognized leader of the women's suffrage movement in South Carolina and the nation. She first become involved in temperance efforts in the 1880s and wrote numerous articles, a weekly newspaper column, and letters to the editor and gave public lectures.  In 1890 she helped form the SC Equal Rights Association and the next year was elected the organization's president.  In the 1890s she tried unsuccessfully to persuade SC lawmakers to allow women to vote and hold office.
Her home in Fairfax in Allendale County was built ca. 1881 shortly after Mrs. Young and her husband, Dr. William Jasper Young, acquired the property. The home is a one and one-half story frame Victorian cottage.  It served as the office for her newspaper, the Fairfax Enterprise and as the office for Dr. Young's medical practice.  Mrs. Young was one of the few women in the South to own and edit a weekly newspaper, and she was one of the few female members of the SC Press Association. Listed in the National Register August 8, 1983.  For more information visit http://schpr.sc.gov/index.php/Detail/properties/11691.
For additional sources of information on South Carolina women check out:
The Official South Carolina Hall of Fame
Historic Columbia "City of Women Website"
National Trust for Historic Preservation "Explore Where Women Made History"